Meet Dr. Patrick Maddigan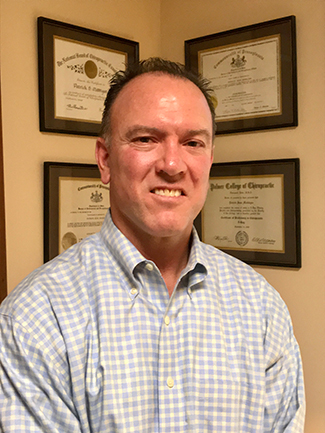 Dr. Maddigan is passionate about providing community members with state-of-the-art treatment at his chiropractic care center. At Maddigan Chiropractic we welcome family members of every age and from every walk of life. We cater to the needs of every patient, from babies and teenagers to young professionals and those in their golden years. Our patients love our emphasis on gentle, low-force adjusting techniques in a caring and compassionate environment.
Born to Be a Chiropractor
"When I was a kid, I was very active in sports. I loved baseball, and I remember standing in the outfield with swollen eyes and clogged sinuses; I had terrible allergies. I used the typical allergy medications and received shots, but nothing made a difference. My dad finally ended up taking me to see his chiropractor; that action changed my life."
Years later, Dr. Maddigan attended Palmer College of Chiropractic in Davenport, Iowa, earning a Doctor of Chiropractic degree in 1990. He was grateful that regular chiropractic adjustments allowed him to remain active in sports in both high school and college. "I learned that if you take care of your body, it'll take care of you."
On a Personal Note
Dr. Maddigan is married and a dad to three teenage boys. "I love to keep up with my sons, so we spend a lot of time in the outdoors. We go snow skiing in the winter, and boating and waterskiing in the summer. They keep me young and active!"
We love families and enjoy seeing our patients living lives of abundant health and vitality. Contact us today for a same-day appointment!
Get to know more about Dr. Maddigan when you book your first appointment with our practice. We look forward to meeting you!


Chiropractor Wexford | (724) 934-0530